Teaching Staff
Matt Savage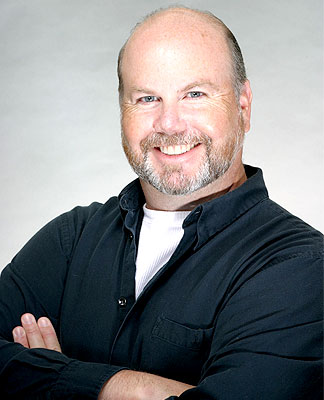 Matt Savage, graduate of the Crane School of Music in Potsdam, New York and The University of Southern California, has taught at every level of public education from elementary to the college level. Along with teaching in public education, Matt also has over thirty five years of playing, teaching and arranging experience in the marching percussion field. This experience includes playing snare drum with the legendary Bayonne Bridgemen and serving as the percussion director and arranger for the Anaheim Velvet Knights and the Canton Bluecoats. His virtuosic snare drum performances can be heard on Row-Loff Publications Rudimental Cookbook and Just Deserts.
At the collegiate level, Matt has served as percussion instructor for the USC Trojan Marching Band and The University of North Carolina at Chapel Hill where he has also in the past, served as Assistant Director of University Bands.
Matt has been heavily involved with the WGI indoor percussion activity as an adjudicator and has served on the WGI Percussion Steering Committee. His publication "Savage Rudimental Workshop", is a state of the art rudiment development book with 2 CD accompaniment published by Alfred Music and used world wide.
He is the founder and director of the Matt Savage Marching Percussion Camp that takes place every summer in the Carolinas. (www.drumcamp.net)
Along with being a marching percussion specialist, Matt is a Remo hand drum artist and drum circle facilitator leading drum circles for a variety of both local and national events with his company Rhythm Alive (www.rhythmalive.com)
He is a proud clinician and endorser for the Yamaha Corporation, Remo Inc, Sabian Cymbals, and Vic Firth Sticks and Mallets.
Alan Keown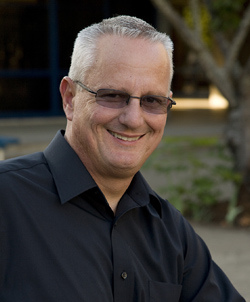 Alan Keown is a noted percussionist and teacher in the Pacific Northwest. As a performer he has worked with the Smothers Brothers, Suzanne Sommers, Sharri Lewis, the Britt Festival orchestra and numerous symphony orchestras including the renowned Oregon Bach Festival Orchestra. As a drum set artist he has performed in concerts and nightclubs throughout the Northwest, as well as recording studio dates for albums, jingles, and video projects.
He is a frequent consultant to high school and college band programs, and has been involved with Ted Turner's Goodwill Games as well as the competitive tour sponsored by Drum Corps International.
Alan is a clinician for Yamaha Drums, Sabian, Malletech drumsticks, and Remo as well as the marching percussion specialist for various Oregon High Schools. He is also the founder of the Alan Keown Marching Percussion Camp, currently held in Oregon. Mr. Keown publishes marching band music with Matrix Publishing Company and concert percussion literature with Alfred Publishing. Alan is also a publisher of concert percussion music with Tapspace Publications and indoor drumline shows with Marching Show Concepts.
Amy Savage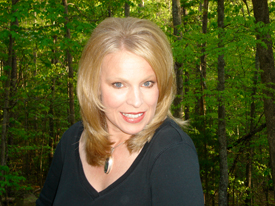 Amy Savage is active in the development of contemporary concert and marching percussion ensembles as a consultant, instructor, composer, and arranger. Currently, Amy serves as Founder and Director of the Northwood High School Indoor Percussion Theatre and is a percussion director/arranger for Northwood and Apex High Schools in North Carolina. Amy served as Director of Marching Percussion at Duke University and Co-founder of the Rhythm Alive Percussion Group. In the summer, Amy teaches at the Matt Savage and Alan Keown Marching Percussion Camps. She was guest artist-in residence at the Anglo- American School of Moscow, Russia. Amy has been a clinician and adjudicator with the Yamaha Sounds of Summer Camps, Atlantic Indoor Association (AIA), Carolina Winter Ensemble Association (CWEA), and Rocky Mountain Percussion Association (RMPA).
As a member of the World Champion Cadets, Amy was awarded the DCI Individual's Championship in ensemble percussion. During this time, she received her bachelor's degree in music education from Miami University in Oxford, OH. Her extensive teaching and arranging experience with several Drum and Bugle Corps includes Encorps, Jersey Surf, Cadets (formerly Garfield Cadets), Bluecoats, Glassmen, Poynton Commodores (England), and Starriders (Germany). Amy is published with Jalen Publishing and Row-Loff Productions. She is a Yamaha Performing Artist, Vic Firth Artist, and a proud Educational Clinician/Endorser for Sabian Cymbals and Remo Incorporated.
Nate Campbell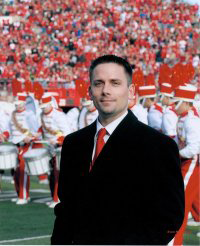 Nate Campbell started playing drums at the age of six under the influence of his father. After graduating with a Bachelors Degree in Music Performance in 2002 from The University Of Nebraska, Nate became the director of the Cornhuskers drumline.
Nate has also served as adjunct professor at Concordia University in Seward, Nebraska. He recently completed my Masters Degree in Music Performance from the University of Nebraska at Lincoln. He was also featured in the TV show Tommy Lee Goes To College. He currently teaches privately in the Raleigh area as well as acting as a clinician and judge for various percussion events.
Matt Keown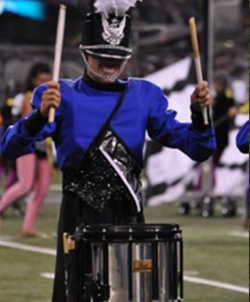 Matt Keown is a former camper at the Alan Keown Marching Percussion Camp. He has gone on to develop into one of the most well rounded university level percussionists in the country. Matt was a snare drummer with the 2009 and 2010 Blue Devils and became section leader and center snare in 2011. He is a former percussion major at the University of Oregon and now studies percussion at Yale in New haven, CT. Matt is a featured clinician for Remo Inc. and former staff of the Oregon Crusaders Drum & Bugle Corps.
Nina Smith
Nina Brian-Smith is a music educator and percussionist originally from Charleston, SC. She currently resides in Amherst, MA where she attends the University of Massachusetts Amherst as a graduate student in the Master's of Music Education program. At UMass, Nina is a teaching assistant for the marching band and teaches the front ensemble and drum line under the guidance of Ian Hale and Thom Hannum. Nina also attended UMass as an undergraduate student and received Bachelor's degrees in percussion and music therapy.
In terms of marching experience, Nina was a member of the Boston Crusaders front ensemble from 2016 to 2021 where she held multiple leadership positions, performed with the corps alongside the Boston Pops at Tanglewood in 2016, and performed with the percussion section at PASIC in 2018. While with the Crusaders, Nina has had the opportunity to work with several renowned educators such as Iain Moyer, Jason Inhat, Ian Hale, and Colin McNutt. She is currently a staff member for the Boston Crusaders front ensemble.
Last but not least, Nina's marching percussion career began at the Matt Savage Camp! She credits much of her early success to everything she learned at camp and she can't wait to return this summer as the lead front ensemble instructor!
Chris Lowry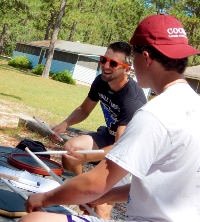 Chris Lowry is a band director at Rockvale High School in Murfreesboro, TN. He has previously taught at LaVergne Middle School and Smyrna Middle School, and holds a Master of Music degree in Wind Band Conducting from Middle Tennessee State University.
Prior to graduating from MTSU with his undergraduate degree in Instrumental Music Education, Lowry performed with the MTSU Band of Blue, Wind Ensemble, Percussion Ensemble, Steel Band, and Salsa Band. He also marched in the drum line of the Cavalier Drum and Bugle Corps in 2014, and with Music City Mystique Percussion Ensemble in 2013 and 2015. Since then he has worked with many local groups such as Music City Drum Corps, Audio Theater Indoor Percussion Ensemble, John Overton High School, Siegel High School, Blackman High School, and Tullahoma High School. Chis is also a proud alum of the Matt Savage Marching Percussion Camp and is excited to be back at camp this summer!
Lowry is an Innovative Percussion Artist and is a member of the National Association for Music Education, Tennessee Music Education Association, and MTSBOA.