The 18th Annual Matt Savage Marching Percussion Camp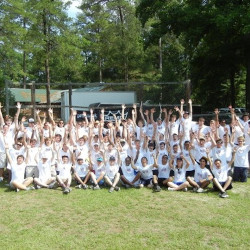 Watch the Camp Promotional Video and NEW 2022 Video!
Welcome to the Matt Savage Drum Camp Website!
We hope you will find all the information you need and register to join us for a fun and incredible week of becoming a better percussionist and a better YOU!
We are incredibly excited to return to Live and In-Person camp for the 18th Annual Matt Savage Marching Percussion Camp. This will be a week filled with intense learning, fun activities, and the making of new friends from throughout the Carolinas and beyond.
We will be returning to our home at Camp Pinehill Retreat in Bennettsville, SC. This is just over the border from Rockingham, NC.
The facilities include large air conditioned cabins, a large air conditioned dining hall, swimming pool, great shady rehearsal spots, private lake, amphitheater and beautiful meeting spots both indoors and out.
The camp philosophy and curriculum will be based on a camp Matt Savage has taught in Oregon, with Alan Keown, since 1989. It is a time tested and proven approach that makes this camp one of a kind!
The #1 goal of the camp is of course to improve drumming and musicianship skills but there is also a strong focus on developing life skills, a strong work ethic, meeting and getting along with new people, respecting each other, and making good life choices. We like to say that after attending "Savage Camp," every student will be "changed" for the better.
We are expecting this to be the largest camp to date so register soon to hold your spot!
2022 Camp Information
June 26 - July 2, 2022
*** DEADLINE EXTENTION ***
Late registration is still available. Register here and Matt Savage will be in touch with you to confirm your spot.
Matt Savage 919-815-6963
Cost: $595 per person.
$250 deposit with registration.
$345 due at camp check in. (Cash or Check - No Credit Cards)
This includes cabins with AIR CONDITIONING, BATHROOMS AND PRIVATE SHOWERS IN EACH CABIN. This also includes meals, instruction, camp curriculum binder, drum sticks and camp t-shirt. The camp will be just as valuable to your top players and section leaders as for younger, less experienced players to improve or move to another drum in the fall.
Check-in will take place at Camp Pinehill's dining hall between 5:00 pm and 6:30 pm on Sunday, June 26, 2022.
Camp concludes with a final performance for family and friends Saturday, July 2 from 11:00am - 12:00noon.
Location:
Camp Pinehill
2096 Baptist Rd
Bennettsville, SC 29512
(GPS works well for directions.)
Pinehill Phone: 843-479-9681
Email questions or concerns to or call/text (919) 815-6963